Deutsch, Español, Ελληνικά, Français, Hausa, Igbo, Indonesian, Italiano, Kiswahili, Kreyòl, Malagasy, Melayu, Português, Русский, Soomaaliga, Tagalog, Việt, Türkçe, Yorùbá, தமிழ், नेपाली, 中文, اردو, 한국어, 日本語, العربية, فارسی, עִברִית, हिन्दी, ไทย, বাংলা, తెలుగు, ગુજરાતી, ລາວ, ਪੰਜਾਬੀ, සිංහල, پښتو
Last updated:
14 October 2014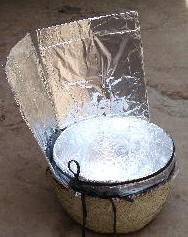 The Borma cooker utilizes the local clay water pot lined with aluminum foil. With a couple of reflectors it cooks great!
The water pot called "Borma" is made and used throughout Darfur Sudan. It is a thin clay pot fired to make it water proof. It is very hard and brittle and resembles a large eggshell with a neck. I found a broken pot in the market for less than a dollar and removed the broken "neck" part by cutting and chipping until it provided a fairly even lip.
Lining the Borma with aluminum foil was fairly simple using contact cement also purchased locally in the market. I found a strip of inner tube and a clear plastic sheet material of about 10-15 mill thick. This plastic sheeting was draped over the opening lip of the Borma like a clear lid with the inner tube as a belt. This allowed the sun to enter but traped in the heat.
Because I was working with a round pot it was necessary to place it in a basket to keep it from rolling around like a ball. Three stones would have sufficed but I liked using a local basket better because it served as a bit of insulation as well as a carrying container. The Borma could now be pivoted in the basket like a ball and socket joint to orient it toward the sun.
Although steam from the boiling pot collected inside the plastic sheet it had no diverse effect on the inside of the Borma. The negative part was that the condensation hindered the sun rays. The black cooking pot was a local made one that did not seal very well. An alternative method I used was to utilize a cooker bag like when using a Cookit. That worked very well especially when I added a couple of cardboard reflectors. I spent under $5.00 for this Borma cooker which is comparable to the cost of making a local Cookit.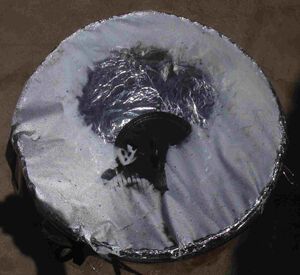 It lacks in portability and is fragile with rough usage. However the hardened clay is very stable material that will not spoil with moisture or rain and will not wear out for many years. All the materials can be found locally in the markets of Darfur and it supports the local producers of baskets and Bormas.
The people that produce these two items are on the lower economic spectrum of society. So by increasing the demand for Bormas and baskets we have in essence empowered the more downtrodden parts of the community. This too can be considered a plus to the whole venture.
More work needs to be done to make a better seal on the Borma lip. Cooking comparisons need to be done between a clear lid cover and the cook bag style. Both may be found equally acceptable which would make the Borma very versatile to use. Borma producers need to be contracted to make the Borma cooker from the onset with a nice smooth lip rather than having to cut down the water pot Borma. The holding baskets could be insulated to see if that increased performance.
News
February 2008: In February of 2008 another trip to Darfur allowed more time to develop and test the Borma cooker. A new one was made and reached 250° while cooking and even melted a hole the the autoclave cover. We gave the cooker a local Arabic name "Tabakna el Shemse" which means "Our Solar Oven." This is because the Darfur women are already familiar with the Borma as a water pot and it has an established place in their homes. More long term testing is being done in Nyala, Darfur for possible future production of the Borma cooker.
Audio and video