Deutsch, Español, Français, Hausa, Igbo, Indonesian, Italiano, Kiswahili, Kreyòl, Malagasy, Melayu, Português, Русский, Soomaaliga, Tagalog, Việt, Türkçe, Yorùbá, Ελληνικά, தமிழ், नेपाली, 中文, اردو, 한국어, 日本語, العربية, فارسی, עִברִית, हिन्दी, ไทย, বাংলা, తెలుగు, ગુજરાતી, ລາວ, ਪੰਜਾਬੀ, සිංහල, پښتو
Last updated: November 14, 2013      
Most significant projects
Bolivia Inti-Sud Soleil reports a decade of success - Bolivia Inti-Sud Soleil reports they have distributed more than 20,000 ecological appliances since 2000. From these 20,000, 14,000 have been solar cookers, mainly distributed in the South American countries of Peru, Bolivia, Chile, and Argentina. Additionally, 5,000 Rocket Stoves were distributed in the African countries of Benin, Chad, and Guinea, as well as to the South American countries. Besides solar cookers and stoves, they have also provided fireless cookers, solar food dryers and solar showers. On November 5, 2011, the organization is sponsoring a national conference addressing deforestation in Africa to be held in their hometown of Nantes, France.
Events
News and Recent Developments
May 2013: Written by David and Ruth Whitfield, Sol Food is a cookbook, but it isn't just a cookbook. In its pages you'll find all the information and advice you need to start solar cooking in your own backyard, plus over 54 solar cooking recipes to put on your table. The Whitfields are the founders of the CEDESOL Foundation, and they share many of team's adventures, gleaned from over a decade of not-for-profit work promoting solar cooking and integrated cooking techniques in Bolivia and around the world. A percentage of the profit from book sales help fund thier efforts. David reports that CEDESOL's application for their ecological stove project is inching forward. Once certified, CEDESOL wil be able to help fund their work through verified carbon credits. Sol Food is offered as an ebook in PDF format. More information...
November 2012: CEDESOL Promotes Integrated Cooking Method - The Integrated Cooking Method (the combined use of solar, fuel efficient biomass and retained heat cooking devices) is the cornerstone of David and Ruth Whitfield's CEDEDSOL Ecological Stoves for Better Living project in Bolivia and Paraguay. This CEDESOL project includes local production, promotion, ducation, distribution, installation and maintenance of improved cooking devices. The project will replace traditional inefficient wood stoves in rural and urban areas, with efficient designs, which have been shown to reduce fuel-wood consumption above 60%. This program is designed to generate Voluntary (verified) Emissions eductions (VERS) by installing and monitoring more than 50'000 Ecological Stoves in Bolivia and Paraguay. VERS to reduce the cost of the stoves to users will be provided by the foundation, myclimate. Without carbon finance obtained with VERS in association with Foundation My Climate, CEDESOL's beneficiaries would not be able to access the program and receive the cookers and education. CEDESOL also acknowledges the generous assistance of Kyoto Twist Society and Green Microfinance.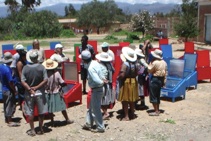 February 2011: New beginnings in Hausa Rancho - Nine CEDESOL staff members traveled to the community of Hausa Rancho to deliver 30 solar cookers to the participants in a project sponsored by the Kyoto Twist Solar Cooking Society. Hausa Rancho, a location with ample sunlight, is located 90 minutes outside the city of Cochabamba, Bolivia. The Kyoto Twist Solar Cooking Society subsidized the cost of the solar cookers, and through outside funding from supporting agencies and organizations, CEDESOL is able to further subsidize the solar cookers it sells. Each cooker costs 560 Bolivianos. The original production cost was 1,600 Bs. With this compounded subsidization, each participant pays only 200 Bs to receive a solar cooker, and afterwards participates in five training sessions held every two to three weeks over the course of three months. The staff members arrived mid-morning to begin setting up the cookers, which would be used to prepare lunch for the community, demonstrating the possibilities of solar cooking. The preparation of the meal took around two hours, and participants were amazed with the results, and were enthusiastic to begin using the solar cookers themselves. In coming months, training sessions will be held to further educate the participants on the capabilities of the cookers. Following the training period, the community will keep the solar cookers, with the expected results of lowered carbon emissions, safer cooking methods, and cleaner lives.
February 2011: CEDESOL collaborates with the Salvation Army to bring solar energy to urban poor - While CEDESOL usually focuses on projects in rural areas, a coordinated project with the Salvation Army brought the benefits of solar cooking instead to four separate urban communities on the outskirts of Cochabamba, Bolivia. It involved the presentation of both solar and wood-burning stoves to each community separately, and allowed community members to individually chose which version they would most like to receive. Following their decision, they received training sessions regarding the use of their selection. Thanks to the Salvation Army subsidizing the solar cookers from CEDESOL, the members of the community paid a mere 100 Bolivianos per solar cooker. The CEDESOL staff provided the training and organized the workshops. The efficiency of the solar cookers was proven to the community as the team cooked lunch for the participants, who were excited at the prospect of soon being able to cook for their own families with the equipment. The cookers will greatly benefit these extremely low-income areas, as they have almost no access to resources such as running water, health care, or sanitation. It is hoped that the provision of solar cooking equipment and capacity-building training sessions will give the people of these communities an economic boost, eliminate the dangers of traditional cooking methods, increase sanitation, and provide education for those participating in the project.
February 2011: CEDESOL founder, David Whitfield participates in the Partnership for Clean Indoor Air Forum in Lima, Peru - His attendance at this event represents an unparalleled opportunity for CEDESOL, and it has been possible thanks to the help of the Kyoto Twist Solar Cooking Society, who funded a major portion of the cost of this participation. The forum will provide CEDESOL with the opportunity to network with myriad organizations, establish connections, and represent CEDESOL and its cause as viable potential future recipients of aid and funding from the many donor organizations that will be present. In particular, CEDESOL is interested in pursuing a partnership with the Global Alliance for Clean Cookstoves, an organization which collaborates with other foundations, agencies, and organizations to overcome the economic hurdles that impede the mission of providing solar cookers to the developing world. With the many projects, new and ongoing in 2011, and as we continue to grow and expand, this funding is essential to further our efforts and advancing our vision to reach more communities and empower more families. While the objective of acquiring funding is imperative, the PCIA Forum also offers CEDESOL an interesting role in the Bolivian solar energy campaign itself. As one of the leading organizations providing ecological cookers in Bolivia, CEDESOL also has the opportunity and responsibility to represent the advancements made in Bolivia, essentially acting as one of the faces and representatives of the movement within the country at this international assembly. Additionally, as the producer of a leading model of ecological cookers, Kyoto Twist Solar Cooking Society recognized that CEDESOL holds an important responsibility to be present at this forefront of solar energy technology. A CEDESOL 2-burner Rocket Stove was transported by bus and installed at the conference, and demonstrated impressive results.
November 2010: CEDESOL makes a strong appearance at the Fería de la Construcción - CEDESOL attended the Fería de la Construccioón, held in the Campo Ferial de Cochabamba from November 18th-21st, 2010. The Fería presented an excellent opportunity for CEDESOL to demonstrate its solar energy products to those attending the event, representing Cochabamba and its surrounding areas, as well as other regions of Bolivia. Through the use of a slide show and physical demonstrations of the single and double solar cookers and the Rocket Stove, volunteers and staff educated the attendees on the possibilities of fuel efficient cooking. The presentation was well received by the crowd, and generated significant. Attendance at these types of events is an efficient way to open new doors with other communities, and introduce CEDESOL and its mission to new areas.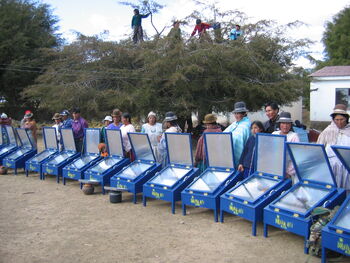 April 2010: Thousands of grass root organizations, politicians, intellectuals, scientists and individuals will debate about climate change next week, April 19th-22nd, in Cochabamba, Bolivia. Discussion will include black carbon emissions and the practical solutions that are available to tackle them.Conference Information... Also see recent CEDESOL activities in Bolivia
April 2007: The Center for Development of Solar Energy (CEDESOL) is working to install 2000 solar cookers and 2500 fuel-efficient, two-burner Rocket Stoves in Bolivia by the end of May. Over the next 12 months it hopes to scale up to 15000 stoves and cookers. CEDESOL contributes to a campaign led by the German aid group GTZ to distribute 100,000 solar cookers, heat-retention cookers, and fuel-efficient stoves by 2010.The GTZ campaign is to be launched during an international seminar in La Paz this month. Contact: CEDESOL
April 2006: Under the auspices of the French NGO Bolivia Inti, alternative energy experts David Whitfield and Ruth Whitfield introduced solar cooking to many villages in Bolivia between 2001 and 2003. After demonstrating solar cookers in public forums, they then trained those people expressing interest in how to make and use solar cookers. Research was conducted in the central highlands of Bolivia in 2005 to assess the continuing impacts of solar cooking on participants of these solar cooking courses conducted by the Whitfields. The researcher, Chris Pell of the University College London, interviewed 170 people with and without solar cookers to determine whether their use affected household fuel consumption. The data showed that 92.7% of the solar cooking course participants continue to use their solar cooker three to five years after the course ended. In fact, 62.4% of all participants use their solar cooker at least once a day during the dry season, demonstrating a lifestyle change that incorporates solar cooking into their daily lives. The solar cooker now supplements their other energy sources: gas, wood, or a combination of gas and wood.
March 2006: French organization Bolivia Inti-Sud Soleil credits three "Ps" for their successes in spreading solar cookers: passion, perseverance, and positive attitude. In 2005, they trained around 800 new solar cooks. Over the past six years, Bolivia Inti-Sud Soleil has distributed 3,600 cookers in the Andean countries of Bolivia, Chile and Peru, benefiting 25,000 people in 200 communities. They have 25 solar cooking trainers, and have recently added a fourth training team. Bolivia Inti-Sud Soleil also has several initiatives in Africa, where an emphasis is placed on the wood saving aspect of solar cookers. These initiatives have met with considerable success.
The History of Solar Cooking in Bolivia
A very active promoting team, David Whitfield and his wife Ruth Whitfield, have established what is most likely the largest program on this continent. It is organized in conventional manner, with workshops held in various villages in which people are taught how to build their own wooden box cookers. Ruth is a Boliviana, and David an American who has lived in Bolivia for more than 30 years. In the last two years, they estimate they have taught more than a thousand people to make and use their own solar cookers. Fuel shortages are a substantial problem in this part of the mountainous region of South America, and the purchase of gas, sometimes a necessity, is very costly.
For a number of years, Ruth and David struggled along (and undoubtedly still do) with minimum resources of dollars but endless enthusiasm and faith in themselves and the potential of solar cooking. Several years ago, they were privileged to receive financial and technical assistance from the French organization INTI and for two years were yet more optimistic. Now that support has ended, and they are waiting for word on a pending Rotary International grant application.
The pilot program, required prior to application for a larger grant, was begun in 2003, when Wilfred Pimentel visited Bolivia for that purpose. If they receive the larger grant, the efforts of Sobre la Roca will be considerably enhanced.
Thus far, while more or less a hand to mouth operation, they have assisted households in dozens of villages to make and build their own cookers. They have also attempted to evaluate the usage of new cooks. When calculating the carbon emissions that did not enter the atmosphere because of the solar cookers, the figures are quite impressive, if hard to conceptualize. The story of the large Bolivian project is one of the continent's most impressive. It is important to note that estimates of having made and trained cooks of 1,000 households would make this among the larger programs on the continent, if not indeed the largest.
The Whitfields have actively sought to educate themselves about the entire range of solar devices and, indeed, about fuel efficient stoves and hay boxes, in the interest of assisting people to develop a complete and integrated cooking system for the household.
They have promoted parabolics with the cooperation of EG-Solar, a German group, which states that 200 such parabolic cookers have been distributed in South America, at a cost of around $90. The usual means of doing that is shipment of components, with local assembly, making shipping costs less and thus the device cheaper to the purchaser.
Currently, they have submitted a proposal for the U.S. Environmental Protection Agency, which sponsors a grant program that provides assistance for sustainable environmental activities around the world.
[Information for this section was taken originally from State of the Art of Solar Cooking by Dr. Barbara Knudson]
See also
Climate, Culture, and Special Considerations
See also Solar cooker dissemination and cultural variables
Resources
Possible funders for solar cooking projects in Bolivia
Reports
Articles in the media
Grupo de discusión en Facebook
Audio and video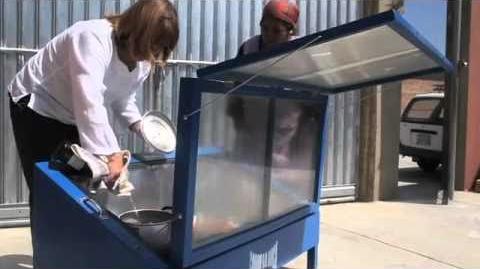 August 2010: A short film by Julia Kumari Drapkin. She speaks with Ruth Saveeda, A native Bolivian, who has worked to improve the lives of women and children in poor communities by introducing solar cooking. Like many areas, These communities are experiencing deforestation, and the smoke from traditional wood stoves has damaged the health of residents, beyond those directly involved with cooking. She helped found Sobre la Roca, which makes high quality solar box cookers from recycled materials as part of their efforts to spread her message.
08:48

Proyecto TAMBO (I) - Cocinas solares parabólicas en Bolivia

Proyecto TAMBO (I) - Cocinas solares parabólicas en Bolivia - José Garrido
Web pages
Contacts
NGOs
Manufacturers and vendors
Government agencies
Educational institutions
Individuals
See also
References