Reducing your carbon & helping others, Blue Ventures Carbon Offset (BVCO) works to tackle climate change whilst providing economic, social, health & environmental benefits to vulnerable and impoverished communities in developing countries. BVCO is a carbon consultancy and not for profit carbon offset organisation.
BVCO helps you to:
calculate your carbon footprint
reduce your carbon footprint
compensate your carbon footprint in one of BVCO's community projects
BVCO helps others by:
developing and running small scale community energy projects
accessing finance for sustainable development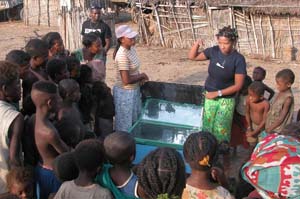 In Madagascar BVCO is working with cookers constructed locally in the nearest large port of Tulear within the ADES workshop. The workshop trains local people to construct the stoves, who then train others themselves. Training is then provided for local villagers to use and repair the stoves as they are installed. BVCO will fund this training and construction, ensuring long-term sustainability of this project. Continual monitoring is being conduct to ensure evaluation of the stove and wood use, and to accurately confirm the carbon offset. In South Africa BVCO is currently working to provide fuel efficient stoves and solar stoves in South Africa in association with SunFire Solutions. The main objective of the project is to help reduce poverty and alleviate the difficult energy situation that South Africa is currently experiencing. The project provides subsidised solar and fuel-efficient stoves to poor communities, allowing families to move away from open-fire cooking which requires enormous amounts of wood fuel and often leads to smoke-related illnesses. The project provides immediate environmental, economic, health and social benefits and is based on a business model that engages local communities and encourages grass-roots entrepreneurship. The project locations are in the peri-urban township of Soweto, the City of Polokwane, and in the semi-rural area of Acornhoek. Each of these projects focuses on communities that are currently struggling to meet their energy needs and have limited economic opportunities.
[This text was borrowed from http://www.bvco.org.uk.]
News and recent developments
Reports
See also
External links
Contact
Blue Ventures Carbon Offset
Unit 2D, Aberdeen Centre
Highbury Grove
London
N5 2EA
United Kingdom
Tel: (+44) 02031-760548