Last edited:
14 October 2013
Events
International conferences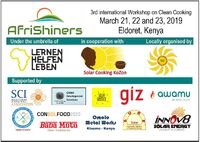 NEW: 

21-23 March 2019: AfriShiners - The AfriShiners 3rd International Workshop is taking place in Eldoret, Kenya. (Unfortunately, registration is full for this event). More information...
See also: Global Calendar of Events and past events in Bhutan
News
October 2013: The Vajra Foundation Nepal reports that recently approximately one third of the Bhutanese refugees have left the camps and found new homes in the USA, Australia, New Zealand, and the European Union. They have left their solar cookers behind, thus freeing these up to be made available to the Nepali families who live around the camps. Devi Maya Kadariya, a resident of the village of Garamani, reports that she and her neighbors had seen the profile of the solar cookers in the distance and they knew that the refugees were able to cook with the sun. She now considers herself lucky to have a solar cooker for herself. She says she saves a lot of wood and especially saves the time that she used to spend gathering wood, and she feels that her life is better now.
History
Archived articles
Climate and culture
Audio and video
Resources
Possible funders
Nepal (For information on solar cooking projects in the refugee camps there for Bhutanese refugees)
Reports
Articles in the media
Contacts
SCI Associates
NGOs
Government agencies
Manufacturers and vendors
Individuals
Government agencies
Educational institutions
See also
References