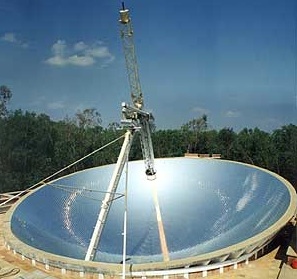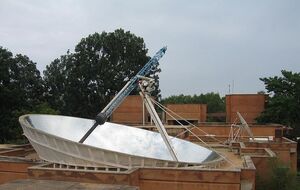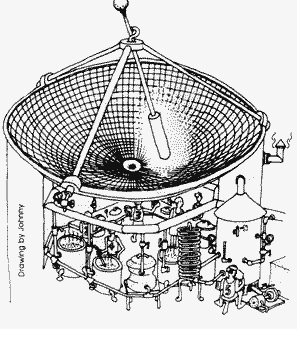 Auroville (City of Dawn) is an "experimental" township in the Viluppuram district of Tamil Nadu, India, near Puducherry in South India. As part of the research being done in Auroville in the mid-nineties, a large concentrating solar collector was constructed, known as the Auroville Solar Bowl began construction under the direction of John Harper. The Scheffler Community Kitchen concentrator focusses the light to create steam, which is used in the kitchen for cooking. The innovative decision to integrate in the building a fixed spherical solar bowl concentrator with a 15 meter diameter determined, to a large extent, the design and technology applications used within the building itself. They decided upon a solar bowl with a single concave mirror rather than separate parabolic reflectors, because stability of the whole system is an essential factor for us given the strong winds that prevail during the monsoon.
One of the problems they had when they built first model at the Centre Guest House was devising a system to track the sun. According to Harper "Now, because of our experience in putting together the Matrimandir heliostat to supply a steady beam of light into the chamber, we have the knowledge to handle this technical aspect. To me, building this bowl has been one step towards the future. With this bowl we will be producing steam for cooking, but eventually the heat that you trap could be used for a variety of purposes such as pumping water, producing mechanical power, industrial process heating, etc. One can envision the whole of our Industrial Zone running on solar energy.. It is a question of orientation. Walk across an open field on a bright sunny day - you can feel yourself being roasted and scorched by the burning sun, or you can feel a great joy in the perception that you are being bathed in a powerful flood of rich golden energy!"
Installed at the Auroville Solar Kitchen in the village, the solar bowl is positioned at the western end of the first floor. Composite granite blocks were used for the foundations. Walls in compressed earth blocks support the whole structure. A total of 96 prefabricated ferrocement elements were cast and hoisted in place to form a perfect fixed spherical bowl. A tilted fixed mast supports a moving receiver which can rotate in all directions around a double-axis articulation placed at the centre of the sphere and balanced by a counterweight. A computer programme ensures the automatic tracking of the whole system with scope for seasonal changes. The solar bowl had also to be hybridized with a conventional diesel fired boiler back-up system for cooking on an off-on basis. The interface is through a heat storage tank using thermic fluid storage (1.4 m3) with one-hour heat storage capacity. Possible future replicability for community cooking, power generation, desalinization and cold storage have been kept in mind.
See also:
External links
Contact