Deutsch, Español, Ελληνικά, Français, Hausa, Igbo, Indonesian, Italiano, Kiswahili, Kreyòl, Malagasy, Melayu, Português, Русский, Soomaaliga, Tagalog, Việt, Türkçe, Yorùbá, தமிழ், नेपाली, 中文, اردو, 한국어, 日本語, العربية, فارسی, עִברִית, हिन्दी, ไทย, বাংলা, తెలుగు, ગુજરાતી, ລາວ, ਪੰਜਾਬੀ, සිංහල, پښتو
Last updated:

23 March 2018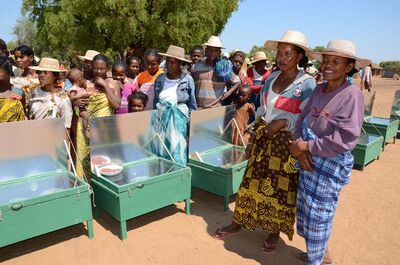 Association pour le Développement de l'Energie Solaire (ADES) is a Swiss NGO that produces solar cookers in Madagascar and supports the use of renewable energy sources. The objective is to provide solar cookers and fuel-efficient stoves for cooking to people in Madagascar. In this way firewood and charcoal consumption can be substantially reduced. The project started in Tuléar in the south of Madagascar in 2001. Local production by local people with local material is part of the ADES philosophy. Cookers built and solar at subsidized prices now number in the thousands.
The deforestation problem
For centuries the population of Madagascar has been cooking their food with charcoal, which requires vast amounts of firewood in its production. About 90% of the original forest in Madagascar has been destroyed. It is not any more a green island but becomes more and more a red one. Madagascar has, especially in the south and southwest regions of the country, close to ideal conditions for the use of solar energy. The solar cookers and efficient stoves are an important contribution towards halting the deforestation process. Besides environmental reasons, there are also economical and practical reasons to favor the solar cooker. Families spend less money on wood and charcoal, and cooking with the solar cooker saves having to cook over smoky fires and avoid the associated respiratory disease.
To be able to convince the people to this new way of cooking, ADES provides cooking demonstrations, and training to women who disseminate the cookers themselves. There are also workshops for school teachers in the environmental questions and usage of solar cookers, so they can integrate them in their lessons and publicity programs were done. Solar cookers have to be subsidized so that the people can afford them at this point.
ADES vision
ADES has the vision that within 20-40 years a large part of the population in Madagascar will predominantly be using solar cookers to prepare their food. Every year an increasing number of stoves are planned to be be distributed. In 2011 they distributed 6,642 cookers (1,460 of these were solar cookers). In 2012 it was 11,200 stoves. In 2013 it is estimated to be 15,000 to 20,000 total units.
ADES has three centers in Madagascar (Tulear, Morondava, Ejeda) and an offshoot in Andavadoka (near Morombeé) where they construct and do outreach in solar cooking. In 2008, they sold 1,500 solar ovens. Manufacturing is well organized, but promotion is tougher as it takes a lot of training to get the women to give up their traditional fire for cooking. ADES is in the process of developing various programs such as "women teaching women" and environmental education in the schools.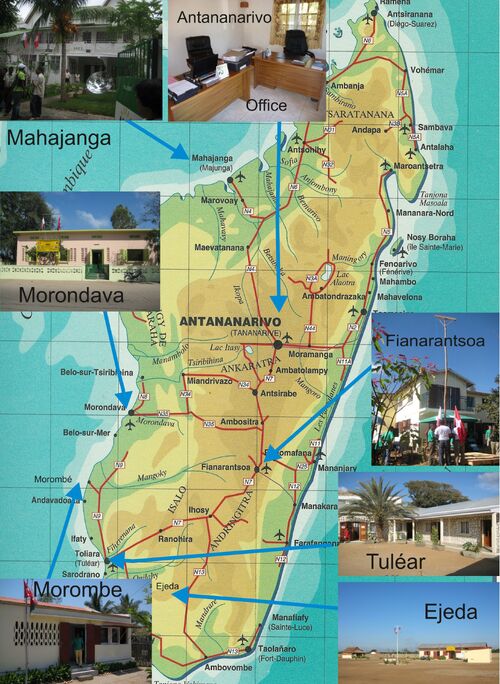 News
November 2017: Regula Ochsner, of Association pour le Développement de l'Energie Solaire, reports their solar cooking activity in Madagascar has remained busy, but not at the levels of recent years. She explained that with the development of cheaper improved combustion stoves, solar cooker sales have dropped to approximately 500 units a year from 1,500 units previously. Their efforts have paid off however, with the creation of 460 jobs, of which 150 were within ADES itself. Below, cooks are busy preparing meals with solar cookers manufactured at ADES facilities.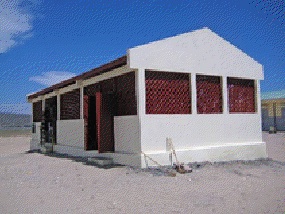 March 2013: Continuing with their holistic community approach, ADES began a program last November to place Sun Ovens and fuel-efficient woodstoves into a new local school canteen they helped to build. Now, 245 school children receive a warm meal once a day.
November 2012: ADES from 2001 to 2012 - ADES started its solar cooking program in Madagascar in 2001 with a small carpentry shop under a party tent, two motivated carpenters and an instructress. Today we operate six centres with manufacturing facilities, a new sales point in Antananarivo, the capital and a coordination centre in Tuléar. ADES actually employs 85 persons and additionally created about 50 jobs in external enterprises. On average a family of 20 people is living off the salary of one employee. ADES is a socially sustainable employer. All the children of our employees go to school at our expense and the families are covered by health insurance. For each solar cooker sold we have two trees planted in a reforestation project in Madagascar. Read ADES from 2001 to 2012 to find out more and see photographs of our facilities, products, and activities.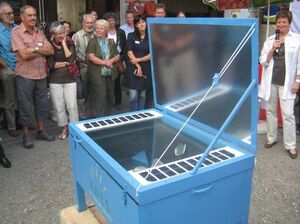 June 2011 The team of the Association pour le Développement de l'Energie Solaire (ADES) in Madagascar gathered last Saturday in Baar to unpack a novel solar cooker at the anniversary celebration of ADES. The Electro Solar Cooker comes with built-in photo cells and batteries to also provide power for lights, radios, and cell phone recharging, besides being an efficient solar box cooker. "This will make a sensation," says Regula Ochsner, founder of ADES. Especially valuable, is that the know-how transfer has gone the other way around for once: Madagascar supplies to Europe. Regula was enthusiastic but also a bit scared before the expected rush to the newest generation of solar cookers: "Can we handle the logistics as well?" This is the first time the latest prototype solar cooker has been presented to the general public, and it has happened in Madagascar. The work of ADES and its founder, Regula Ochsner from Ottenbach have received numerous awards, including the Swiss Solar Prize (2007), the Doron Prize (2008) or the price of the Brandenberger Foundation. The 10-year anniversary provides an opportunity to look back. Renewable energies point to the future. The event is even more poignant this year, in light of the tragedy in Fukushima. The non-profit organization has been committed to ADES in Madagascar for the past ten years to preserve the unique flora and fauna and promote sustainable cooking methods. In 2001, under the scorching sun in Madagascar, and under a party tent, the first solar cooker assembled. Today ADES employs around a staff of sixty. Countries with the use of solar and energy-saving stoves have already saved around 30,000 hectares of dry forest from logging. ADES first introduced solar cookers in order to reduce the deforestation of the dry forests, but now, in conjunction with solar cookers use, energy-efficient stoves have helped reduce wood consumption by up to 65%. See photos of the celebration at: ADES 10-year anniversary celebration, 25th June 2011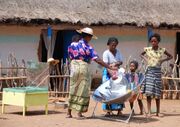 January 2011: ADES 2010 annual report (German version)
April 2010: Since 2001, ADES has been making and selling solar cookers in the southwestern part of Madagascar, providing much-needed cooking alternatives as well as employment for over 30 local carpenters and trainers. In 2003, ADES built its first permanent solar cooker construction workshop in Tulear. A second construction workshop was established in Ejeda in 2006, followed in 2008 by a workshop in Morondava. Each of these regional centers also has sales and demonstration offices. Future plans include development of a fourth regional center in Anosy or Antandroy, and the creation of two or three local branches within each region to reduce transportation distances and increase outreach capacity. According to ADES, southwestern Madagascar experiences about 330 sunny days per year and is a nearly ideal region for solar cooking. However, per capita income in Madagascar is only about $400 per year, making it difficult for families to afford solar cookers and spend their meager income on a technology they are not familiar with. Rising firewood and charcoal costs over the past few years are making solar cookers comparatively more affordable, but still out of reach for many. Subsidies have mostly come from donors in Switzerland and a handful of awards. The Madagascar government has provided some additional support, partnering with ADES to promote renewable energy in Tulear. Hand-crafted wooden solar box cookers, produced locally for upwards of $200 each, are sold at a subsidized price of just over $20. These cookers reach temperatures of up to 150°C, and are commonly used to cook rice, various root vegetables, meat, fish, bread, and cakes. Metal parabolic solar cookers are assembled locally for about $160 each, from aluminum and steel parts made by another local organization at an already subsidized price. The parabolic cookers are then sold at a subsidized price of about $50. These cookers reach even higher temperatures, but require stirring of food and more frequent adjustments to track the sun. They are particularly useful for frying, and can work in a complementary fashion with solar box cookers. Both cookers come with 7-year warranties. By the end of 2009, ADES had sold 4,640 solar cookers. It hopes to ramp up its outreach and sales capacity with funding from carbon credit offsets.
October 2007: Swiss Solar Award 2007 goes to ADES. In recognition of the achieved results, ADES is being awarded the Swiss Solar Award 2007 in the category Persons/Institutions. Furthermore, ADES is nominated for the European Solar Award. This is a great honor and recognition for us. For further information see Press Releases in German and in French.
March 2007: Regula Ochsner, president of ADES, has been aewarded the international "Women of the Earth Award" by the Yves Rocher Foundation. The award ceremony took place on March 8 2007 at the Institute of France in Paris and was attended by French Minister for the Environment, Nelly Olin, Jacques Rocher, Director of the Yves Rocher Foundation for the environment and Gabriel de Broglie, Chancellor of the Institute of France. Ochsner plans to invest the prize money of €10,000 in a further solar cooker pilot project in the south of Madagascar.
Documents
The products that ADES manufactures and sells
Audio and video
See also
Contact
Regula Ochsner
Co-President ADES
Lanzenstr. 18
8913 Ottenbach
Switzerland Tel. +41 (0)44 761 20 61
Email: patchankaa@yahoo.fr
Web: http://www.adesolaire.org