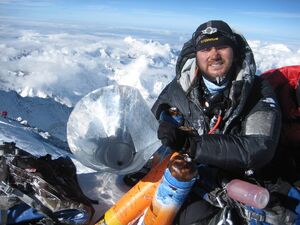 Allart's objective in 1992 was to start a sustainable solar cooking and water pasteurization program solving Nepal's severe health, environmental and energy problems. Solar cooking was not practiced at the time. His successful strategy is: find "champion" organization(s), create Awareness with public/private demonstrations, Build the infrastructure and do Continuous follow-up on programs each year (ABC). He also trains how to use, design and fabricate solar cookers, water pasteurizers, Solar food dryers, heat-retaining boxes; advise organizations to become successful in solar energy projects, help start new NGO's and businesses; identify reliable workshops producing quality solar devices on-time; and teach responsible eco-tourism with trekking organizations and lodgekeepers.
He designed a 400 gram Solar Trekkers Cooker for effective dissemination, and a 3 kg, 1 m diameter collapsible parabolic cooker, for remote and rural households and trekking/expedition groups. New initiatives: - An integrated cooking method adds fuelwood-efficient, smokeless "Rocket stoves" to solar cookers. A further integrated approach offers complete health, energy, environment-friendly solutions with solar space heating, photo-voltaics, efficient WLED lighting, composting, toilets, and biomass briquettes. - He initiated a School of Renewable Energy teaching all RE technologies, plus carpentry, metalworking and small-business. Skilled workforces of RE entrepreneurs will disseminate RE technologies and create jobs. - He initiated 21 Rotary Matching Grant programs in 9 years (17 for Nepal, the others for Indonesia and Afghanistan), resulting in training, distribution of solar/sustainable devices, empowering women, poverty alleviation, improving quality of life for 3850 families (28000 people).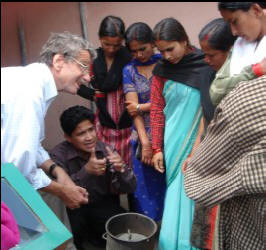 &nbsp
Ligtenberg doesn't let any grass grow under his feet. He travels every year to two or three countries to initiate or follow up on numerous solar cooking and other sustainable technology projects, including projects of his Los Altos Rotary Club and partner Rotary clubs in the world.
Recent news and developments
July 2012: Allart's solar cooking projects are covered by the Rotarian Magazine: The Sun Also Cooks and Harnessing the sun's power to cook
June 2012: Rotary International bestowed its highest honor for an individual on Los Altos resident Allart Ligtenberg this year. Rotary District 5170 Governor Arley Marley III, presented the Service Above Self Award to Ligtenberg at the District meeting June 1-3 at Lake Tahoe. Ligtenberg's contributions began in 1992 when he designed and built a solar cooking and water pasteurization system that helped in solving Nepal's severe health and environment problems. He initiated 21 Rotary Matching Grant programs in nine years for similar relief in Nepal, Indonesia and Afghanistan that improved the quality of life for 3,850 families and empowered the women in those areas. Read more...
January 2011: Parabolic solar cookers popular in Tibet. Allart Ligtenberg has been involved for a number of years introducing solar cooking to communities in Nepal, Mexico, Mongolia, Indonesia, and other countries around the world. His work has given him a keen sense for perceiving the level of solar cooking happening in a particular country. He recently traveled through Tibet with his wife, and they were amazed at the number of parabolic solar cookers being used in cities and rural areas as well. Allart estimates that there may be 80,000-100,000 solar cookers in use in Tibet at this time. The cookers they saw used parabolic style reflectors, some round, others with a butterfly design. He ventured that the level of use was almost mainstream, typically for making large quantities of tea. They saw no solar box cookers or solar panel cookers. Usually, acquiring a parabolic style cooker is a more expensive approach than other solar cooking options, but he mentioned one manufacturer in China is able to market a one meter parabolic cooker for US$30-$40 due to large production numbers (100,000 units annually), and low labor costs.
Audio and video
See also
External links
Contact
800 Loyola Dr
Los Altos, CA
USA 94024
Tel: 650-948-8294
Fax: 650-948-8294
Aligtenber@aol.com
http://fast-solar.com
See this article in other languages