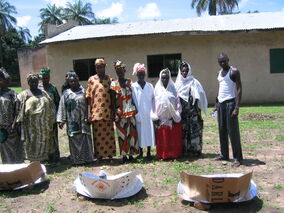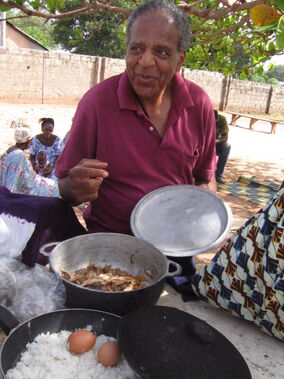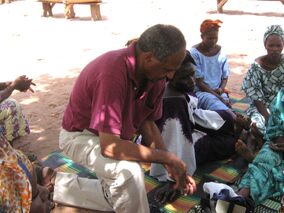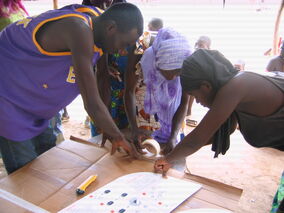 Adventures in Health, Education, and Agricultural Development provides leadership training in The Gambia. In 2006, Program Coordinator Malcolm Gee introduced solar cooking there. From this work, the local NGO Tilo Tabiro was formed with Lamin Sawo as its director. Lamin reported in December 2009 that over 900 families are now using solar cookers in all areas of the country. There are also groups of women who are using their solar cookers to bake bread for sale.
News and recent developments
September 2009: Lamin Sawo reports, "Having successfully completed the other phase of the training, this year we introduce box cooker to women in the communities, they will start money making enterprise by making bake foods and selling to sustain the project. Mr. Malcolm Gee the AHEAD Coordinator, Tilo Tabiro received an award on behalf of AHEAD from President's International Award (PIA) Gambia. The award was presented by the Vice President of The Republic the Gambia, Aja Isatou Njie Saidy. Towards there outstanding contribution and development of young people and the women in the communities."
August 2008: From 2nd June to date we are with expantion and we had meet 7 communities and trained 712 new women in the 7 new villages in the country. We trained them with the basic knowledge of solar cooking and the benefit of this latest technology. The women appreciated the training very much. They promise to work as a team to help the other communities with the technology. Our aim is to cover the whole country within 5 years with the latest techology.
August 2008: The nongovernmental organization Adventures in Health, Education, and Agricultural Development (AHEAD) recently conducted solar cooking trainings in five villages in The Gambia and plans to expand this summer. Malcolm Gee led workshops to train 12-15 women per village in the construction and use of panel-type solar cookers. Eighty women were trained, who in turn will train others. The women cooked meals of fish, rice, and vegetables in the cookers, and are experimenting with other traditional dishes. They have formed a trainers' cooperative called Tilo Tabiro.
See also
Contact
Malcolm Gee
Program Coordinator
AHEAD, Inc.
PO Box 2049
Rockville, Maryland 20847
USA

Lamin Sawo
5556 Centerpointe Blvd
Apt 6
Canandaigua, NY 14424
USA
Tel: +1 (585) 412-3003
Email: lfsawo@hotmail.com or aheadgambia@hotmail.com