ASTRA - Agency for Solar Technology Research and Application was created in Ottawa, Canada on the 7th of March, 2001, ASTRA is a Corporation Without Share Capital (Not-for Profit) dedicated to the advancement of renewable energy use at all levels of society.
We are currently engaged in awareness raising about our newly developed Phaeton solar cooker which costs $500 and has a power rating of 2kw. We are seeking partners, sponsors, benefactors and anyone who believes they can help us to field test and popularize these cookers.
Section III of our Application for Incorporation reads:
The objects of the Corporation are:
To conduct research and experimentation on production of renewable energy, with particular but not exclusive reference to solar energy, as a source of high-grade heat;
To pursue numerous technical and scientific avenues toward a prime objective, namely, to achieve the lowest possible costs of energy-production hardware, consistent with standards of living.
To develop energy-production hardware that is economical, functional, and simple enough to be within the financial and technical competence of rural and village entrepreneurs and domestic users in Third-World regions where sun and wind are plentiful;
To develop production processes and technologies whereby the basic low-cost energy may be afforded economic values, e.g. by baking, cooking, roasting, parching, distillation, destructive distillation, thermo-chemical processes, ceramics burning and glazing, shaftpower production and a wide range of applications thereof, water sterilization, electricity production via multi-intensity photovoltaic cells, small-scale metallurgy and glass-making and moulding, and numerous related or additional applications of low-cost energy;
To conduct pilot or demonstration projects in various developing-country environments: (a) of techniques for fabrication of basic energy-producing hardware; and (b) of various applications of low cost, renewable high-grade heat and low-cost mechanical energy.
To foster and promote the formation of financial and marketing infrastructure at the village level, e.g. women's cooperative credit institutions, and to promote the funding thereof by international aid and financial institutions, so that capital may be readily available for the purchase of solar arrays;
To foster and promote the involvement of Third-World faculties of engineering, social sciences, economics, and university and governmental extension services, in establishment of community infrastructure, evaluations of various types of enterprise, and counselling on various uses of solar and related technologies;
To disseminate information re: the above, to rural people of developing countries, and to international development program administrators in both recipient and donor countries, and to entrepreneurs and investors in both industrial and developing countries.
Recent news and developments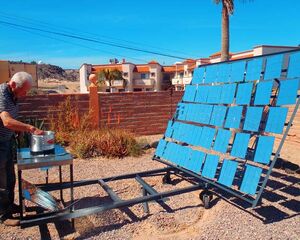 November 2012: Lorin Symington writes that ASTRA (Agency for Solar Technology Research & Application) has developed a powerful and versatile solar cooker called the Phaeton. Calculations show that the Phaeton is one of the most cost effective solar thermal systems in the world. According to principles embodied by the open-source family of technologies known as Solar Fire, the Phaeton is built from globally available and workable materials. The array of glass mirrors focus sunlight such that users can bake, boil, fry, deep fry, roast, pasteurize, distill or dehydrate. The amount of useable energy harnessed is ~2kWh seven hours a day. Based on energy values of US$.25 kWh, and 300 operating days a year, at a cost of $500 a fully utilized Phaeton will see return on investment in less than 5 months and will last 20 years. We expect exponential growth of a properly managed project and ASTRA is searching for the means to mount a series of projects designed to test the limits of solar thermal implementation. With the intent of promoting Solar Fire powered businesses and gathering usage data, ASTRA traveled to Port-au-Prince, Haiti and began training local workers to build Phaeton solar cookers. Unfortunately, near the end of production a devastating fire swept the workshop, destroying tools and progress. The project lacked the resources to restart. We are very excited to start fresh and explore ways we can prove the economic, environmental, social and health benefits of Solar Fire technologies.
July 2012: ASTRA is now in the process of submitting funding requests to various organizations to launch pilot projects in Haiti.
February 2012: Lorin Symington, Vice-President of ASTRA travels to Port-au-Prince, Haiti, to assess the potential for Solar Fire and to build solar cookers for promotion and data-collection.
External links
Contact
See Lorin Symington.
Email: lorin.symington@gmail.com